Barcelona Zoo
Average rating

5

Number of reviews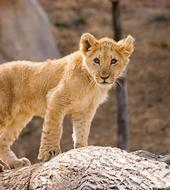 Away from the hectic city...
Enjoy a day out with your family members on a perfect trip to the Barcelona Zoo, a place that can be seen as a hidden gem in Barcelona. Enjoy the wide variety of species- this zoo accommodates over 2000 animals. Located in the oldest city park – Parc de la Ciutadella – it will make you forget about all the city traffic and your everyday problems! The lovely selection of wildlife, the entertaining performances of dolphins and sea lions, and the unique location in the centre of the city makes the Barcelona Zoo worthwhile.

Opening Hours:
Opening:
10 a.m. throughout the year
Closing:
1 January to 26 March: 5.30 p.m.
27 March to 15 May: 7 p.m.
16 May to 15 September: 8 p.m.
16 September to 29 October: 7 p.m.
30 October to 31 December: 5.30 p.m.

Location:
Parc de la Ciutadella
08003 Barcelona
Metro to Ciutadella - Vila Olimpica
Ticket is valid from 1 st of January till 31 st of December! Buy your ticket online and skip the line!

Tickets will be sent via e-mail!
Reviews
Rating

5

Review

Me and my boyfriend had a really nice time here. My favourite zoo so far! There was so much to see. If you're in Barcelona you should definitely go! - Freddie

Rating

5

Review

Absolutely loved it! We had a great family day here and I was really impressed at the variety of things to see and do! This is a must do for young families who are on holiday in Barcelona. Thanks, Rachel

Rating

5

Review

My children absolutely loved this place and so did us parents!! Surprised by how large it was and there was even a show with dolphins which was very impressive:) Thank you!! -Bodil from Denmark

Rating

5

Review

Brought my family here and it was a great place to spend the day! Very big zoo considering it being in the middle of the city, and the dolphin show was very fun! the kids loved it, thanks - Ron

Rating

5

Review

Beautiful zoo, loads of animals and not too crowded. I went with my boyfriend and we were not bored once. Definitely recommended as it is easy to get to and a very fun experience!